First Look: Forest City Shuffleboard Arena and Bar in Ohio City
April 27, 2017 at 10:56 AM
After nearly a year of construction, Jim Miketo is putting the finishing touches on Forest City Shuffleboard Arena and Bar (4506 Lorain Ave.), a gorgeous new entertainment option on the Ohio City-Detroit Shoreway border. A complete gut-and-rebuild job on the former Supermercado Rico building on Lorain at W. 45th has produced a spacious, but comfortable social club with indoor shuffleboard, bar and kitchen. The business is on track for a mid-May opening.
Miketo, a Cleveland native and graduate of St. Eds, lived in New York for eight years. It was there that he visited Royal Palms Shuffleboard Club in Brooklyn and became enamored by the game and its followers.
"When I went there I was like, What are kids in their 20s and 30s doing playing shuffleboard?" he recalls. "And there are two- to three-hour waits every Friday, Saturday and Sunday."
Miketo opened his first indoor shuffleboard club near Marblehead in 2015, but he was thrilled to have the opportunity to expand into his hometown. Not many buildings can accommodate indoor shuffleboard courts, or come with enough adjacent space on which to expand. Miketo got both, and ended up with a spacious 7,500-square-foot main floor when all was said and done.
"One of the big challenges we had, because it was such a big space, was to make it all feel connected – the bar and shuffleboard arena," he says.
He and his wife Kari obviously have an eye for design. The resulting spaces are warm, cozy and interconnected, with burgundy and goldfinch paint colors pairing nicely with the exposed brick. Large openings unite the barroom with the arena, while new windows connect the indoor with the outdoors.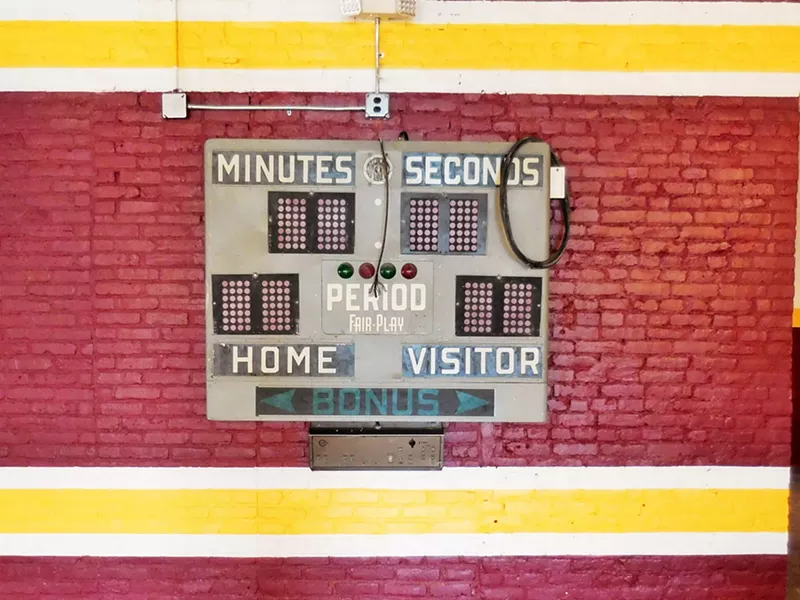 The "vintage varsity" theme is consistent throughout the space, with collegiate-style details like original baseball stadium seating, an old but functional scoreboard from Magnificat High, bleacher-board backbar, high-tops fabricated from basketball court hardwood, and a jumbotron that will hang from the rafters.
While the gymnasium-like atmosphere might provoke flashbacks for weaklings, Miketo says that shuffleboard is a game for all ages and abilities.
"It's shuffleboard; everybody here is an all-star."
There are five indoor and two outdoor courts. The 60-by-10-foot areas of play are constructed of raised poured concrete that is sealed and glossed with glass beads. One-on-one or two-on-two games are played up to 75 points. The courts are rented by the hour. Seasonal leagues will take place throughout the year, and regular play will be first come, first served, although large groups can reserve ahead.
A 30-foot-long maple and black walnut topped bar will serve 20 drafts, draft cocktails, and other beverages "that hearken yesteryear." A fully equipped kitchen space, with service windows accessible from both inside and the outdoor patio, will be staffed by a rotating roster of local talent at all times.
"We'll try and highlight all of Cleveland's great restaurants and up-and-coming chefs," says Miketo, adding that options likely will include empanadas, pupusas, barbecue and many others.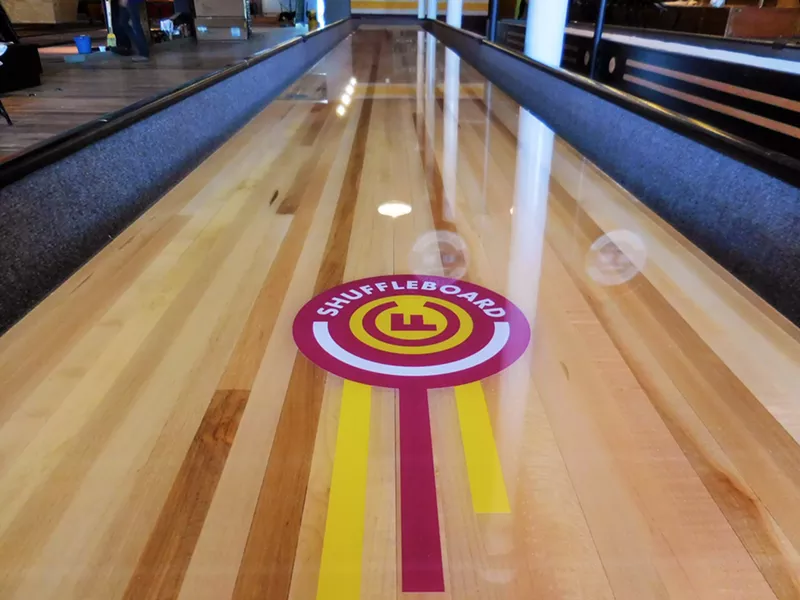 The main bar area features communal tables, benches and custom-built 22-foot tabletop shuffleboard games.
Out front, the two outdoor shuffleboard courts will be flanked by a patio topped with green athletic turf keep the sports theme consistent. Miketo intentionally wanted to bring the activity right up to the sidewalks on Lorain as opposed to sequestering it indoors.
"We want to try and drive foot traffic down this way, so people can see us playing shuffleboard," he notes. "It's such a cool neighborhood down there. It has such a unique fabric, and as the community continues to grow and expand, I want to be a part of it."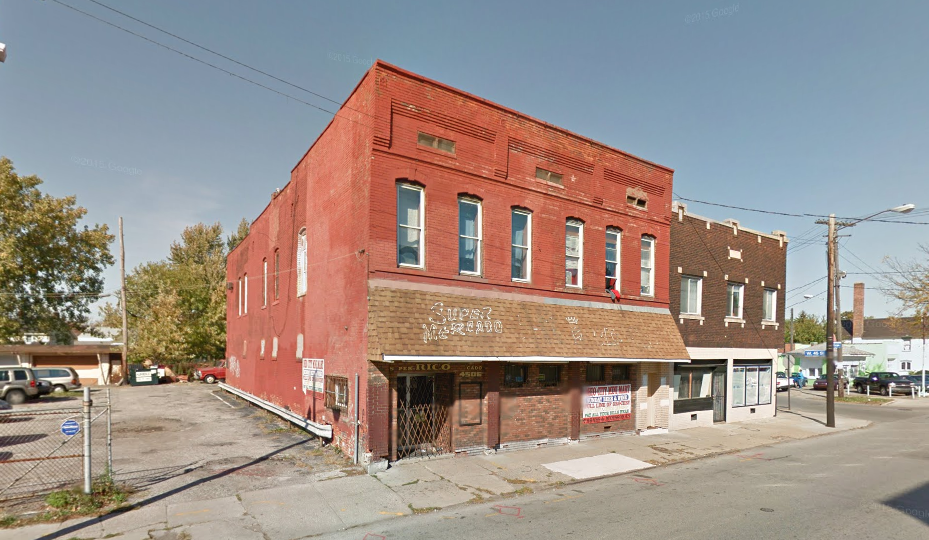 Before shot of the building
Present-day shot of the building